Lowest : GOQii Vital (Black Strap, Size : Regular)@ 1549
Extra 10% off with CC, DC or netbanking
LINK : http://fkrt.it/WCHy9KNNNN
Reg 2499
Product Description
This tracker from GOQii is all you need to achieve your health goals. From your blood pressure to your sleep patterns, this tracker helps you keep a tab on various health-related metrics. You can choose from a variety of wellness experts, such as nutritionists and personal trainers, to help you stay motivated. Also, you can charge this device easily as it comes with an integrated USB charger.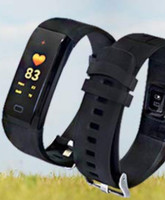 Vital Statistics Tracker
It keeps a tab on your blood pressure, heart rate, steps taken, calories burnt, the number of hours you've been active and your sleep patterns. You can view all this information on its OLED color display.